Swipe to the left
Customer Spotlight: Victoria DeMore
We have a number of talented and interesting customers all across the country and we think it's time to shine a spotlight on them. Every month we will be spotlighting a customer and ask them to share their special talents and experiences in the photography and video world. This month we talk to Victoria DeMore from Orlando, FL.
Tell us a little about yourself and what you do?
I am Victoria of Victoria DeMore Photography. And although it's my name, I'm fortunate enough to have a fabulous team behind me, headlined by my amazing husband, Dustin Heil. We mostly shoot horse shows – across Florida, from Jacksonville to Ocala, The Villages to Venice – but, we also photograph families, seniors, farm shoots, and weddings. Learning, growing and loving getting to meet new people and make friends with some amazing folks along the way!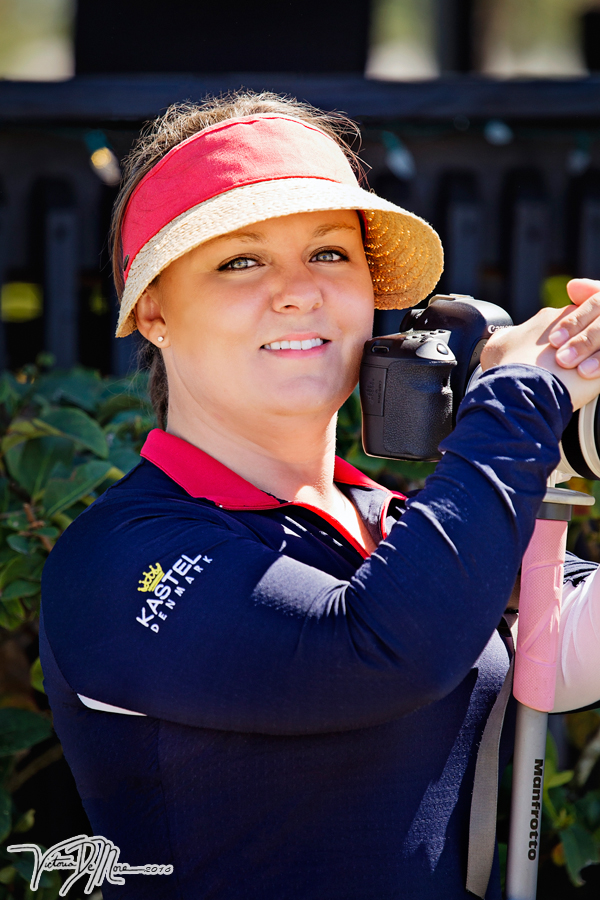 How did you get into photography and/or video?
I came from a family of photographers, so I sort of had a camera in my hands or in my face from a very early age. My dad and I wandered around with his old 35mm Minolta at horse shows when I was only 10 or 11. I loved the challenge of not only getting my settings just right, but also getting the perfect timing of the horses over the jumps. Fast forward about a decade or more, I put photography on the backburner while in school. Moved to Florida to attend Embry-Riddle Aeronautical University. When I graduated college, it was a bad time to find a job. I had some money from graduating, I bought my first DSLR and kit lens and started out on this adventure of making a living with a camera. At first it was just supplemental to various part-time work. Once we moved to the Orlando area from Daytona, things sort of exploded. Couldn't be happier with how things turned out!
Where are you located?
North Orlando, in Longwood. But we travel all over for shows and shoots – most often Ocala, The Villages, and Venice.
What are some of your favorite hobbies/interests outside of photography?
Probably will come as no surprise, but horseback riding. Been riding since I was 5 years old. I used to compete when I had time and did quite well, most recently a few years ago with a horse I trained myself. I also enjoy reading, writing, binge watching Star Trek (my favorite series is Voyager), hanging out with friends, cooking, and exploring. If we aren't working a horse show, you can often find us haunting the local brewery here in Longwood, enjoying craft beer while coloring (check out Unicorns Are Jerks or Dinosaurs With Jobs on Amazon, best coloring books for adults ever!) or playing Cards Against Humanity.
What is your favorite thing about being a photographer/videographer?
Many people I'm guessing would answer this with something about preserving memories… for me that is a HUGE part of photography and why I do what I do, but my favorite thing has to be that I'm continuing my family's legacy. My dad was a wedding photographer for years. Before him, his parents ran a studio. My grandfather, a first generation Italian-American with little to his name, set up a studio in Pittsburgh and made it a success with my grandmother at his side. I grew up believing I had to go be something else, like an engineer or a fighter pilot to really do something that would make my family happy with me. Yet after going through college, I realized photography meant more to me than I ever thought it would – and that my family and my heritage was a point of pride. I love that 900 miles away from where my grandfather started the DeMore adventure into photography, I'm continuing it. Preserving people's memories while preserving my family's memory at the same time. I love it!
What is your least favorite thing about being a photographer/videographer?
I can honestly say that I've never been much of a feminist, but this job has sadly also shown me some ugly things and antiquated thinking. I've been at horse shows with my husband, and despite it being my name being on the business, I've had people completely ignore me and only talk to my husband like I know nothing – about photography, technology, or business. I even had a poaching photographer at a show berate me in front of competitors and spectators. It hurts, I can't pretend it doesn't, because I take a lot of pride in what we do. Yet, the proof is in how our clients feel. We've been doing really well and only have been getting busier with time.
What is your current favorite piece of rental equipment?
Recently discovered the Sigma 150-500mm OS HSM and it has changed my life at the horse shows. Have not tried the new Sigma 150-600mm OS HSM Sport Lens yet, but for now the 150-500 knocks my socks off. My horse show team and I fight over it. The struggles of only renting one per show.
If you were going to a deserted island and could only bring one camera & lens – what would it be?
Hmm… I'm always nervous about taking anything super fancy with me when travelling on personal trips. I'd go with a Canon 7D Mark II for the weather sealing. Plus one of my older Canon 100-400mm L IS lenses. My go-to horse show setup. I would imagine there would be some opportunities for killer wildlife shots while I'm there and I'm all about the animals.
Where can people follow you or find your work online? (website, Facebook, Instagram, Twitter, YouTube etc.)
Our website and blog can be found at http://www.victoriademorephoto.com. I am rather active on Facebook (VictoriaDeMorePhotography) and Instagram (@VictoriaDemorePhoto) – makes it easy for the horse show crowd to follow where we are and most importantly, where their photos are. I'm also on Snapchat while at horse shows (@victoriademore).
Last, and most importantly – what is your favorite flavor of ice cream?
I once had the privilege of working at a Ben & Jerry's in Myrtle Beach for a summer. Makes this a tricky question. Everything they make is amazing! They once had a flavor called Dublin Mudslide. Irish cream liqueur ice cream with a coffee fudge swirl and chocolate chip cookies. Sadly, it's retired, so I guess I have to go with plain old Chocolate Chip Cookie Dough!
_______
Thank you Victoria for taking the time to participate in our Customer Spotlight Series! We hope you enjoyed it. Here is some of Victoria's work: