Swipe to the left
ikan DS1 Beholder Overview
We've recently added a brand new video gimbal, the ikan DS1 Beholder Gimbal. It's a 3-Axis gyro stabilizer able to support large DSLR cameras in the range of 1.5-3.7lbs, such as the Canon 5D Mark IV, Canon 7D Mark II, Panasonic GH4, & the Sony A7s II. This gimbal is powered by 3 x 2600mAh rechargeable batteries, for a total run-time of 2-3 hours of continuous usage. It also features a 5-way joystick on the handle of the gimbal that offers complete control over the Tilt/Pan axis making it one of the most versatile gimbals to hit the market.
3/8"-16 Thread Mount

The thread mount is located at the bottom of the gimbal as seen in the picture above and is great for mounting the gimbal onto equipment like a Video Monopod and Fluid Head 500 to achieve beautiful jib like shots! You can also use it with Kessler Cineslider 5ft and get a perfect pan/tilt using the 5-way joystick featured on the gimbal handle, or you could use the Handle extension that comes with the gimbal when you rent it from The Lens Depot.
USB Power Options
Having USB power built right into your gimbal adds more variety to the options you have when operating the gimbal. A great way to utilize the USB power option located on the gimbal handle would be to grab a Panasonic GH4 Camera, then using the Panasonic Image App on your smart phone your phone can be used as a live view monitor (with various control options) without worrying about draining your phones battery.
Operating Modes

Follow Mode: follows hand movements, joystick can control up and down, and panning movements.

Lock Made: lock camera onto subject, joystick can control up and down, and panning movements.

Inverted Mode: The gimbal can be operated upside down to achieve low to the ground shots.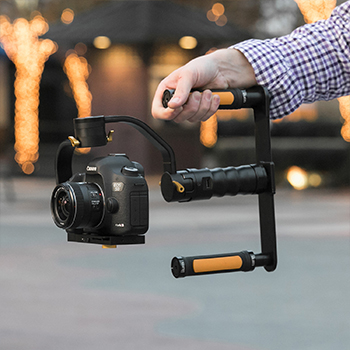 Briefcase Mode: Briefcase mode allows you to hold and operate the gimbal at a horizontal angle.
The Ikan DS1 Beholder is a great tool for any videographer that will give you a ton of different options going into your next shoot. For any shooter that is looking for something a little different, lighter, and isn't looking to run a heavy camera and lens setup the Ikan DS1 Beholder will definitely give you a new way to maneuver through your next shoot. The Ikan DS1 Beholder is available to rent now!
Images provided courtesy of ikan Corporation.