Swipe to the left
Manual vs Electronic Stabilization
Manual vs Electronic Stabilization
One of the most common questions asked when getting into video is whether you should choose manual or electronic stabilization? What's better? What are the pros and cons for each? Should I use both? Lets take a good look into both of these options and weigh out the differences to help you make the best decision on the route you'd like to take!
Manual Stabilizer Examples
Designed for compact, low profile cameras weighing from 2 to 6 pounds. What makes Glidecams different from an electronic stabilizer is that you play a huge part in physically controlling your stabilization and how it looks. The Glidecam HD 2000 is stabilized by a three axis free floating gimbal that is attached to a handle that you control. This gives you the ability to move your handle in all different directions without affecting the movement of the gimbal. This also allows you to run and make sudden movements without creating undesirable motions. You control the post that can freely rotate 360 degrees with your opposite hand, giving you the ability to control your pan and tilt at whatever speed you desire. The Glidecam HD 2000 can also flip upside down in an inverted mode to catch those nice low angle shots. It also features a 1/4" mounting hole at the base to mount an LCD Monitor. It also features a no-tool design. The downside of the Glidecam HD 2000 is the weight strain on your arm muscle and wrist after long periods of use, but luckily there is a solution for that, by simply using the Glidecam Arm Brace. The brace distributes the weight of the entire system over your whole forearm, the system becomes an extension of your body for smooth and natural shooting.
Shoulder Rigs are considered the king when it comes to manual stabilization. The Redrock DSLR Deluxe Cinema V2 for example is compatible with most DSLR cameras such as the Canon 5D Mark III. A shoulder rig does not give you the greatest stabilization but it's a significant improvement to handheld shooting. One of the greatest strengths of the shoulder rig is it's ability to carry optional external attachments like LitePanels MicroPro hotshoe LED Light, Field Monitor Marshall HDMI 7 inch LCD, Redrock Matte Box, Rode NTG-2 Shotgun Microphone Kit. You have so many possibilities in terms of building up your rig and making it your own. Rigs work great for event shooting since you can pack all your gear on the rig and start shooting.
Electronic Stabilizer Examples
Lets look at a few electronic stabilizer examples!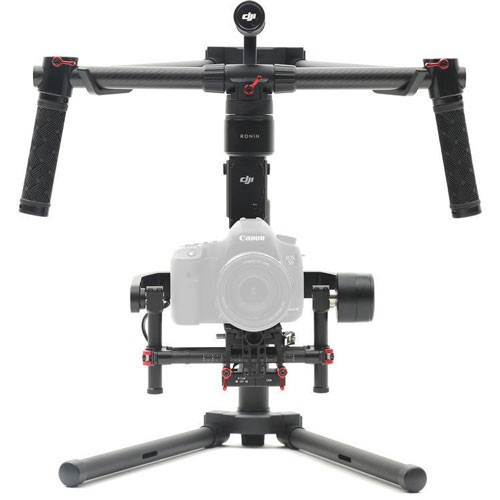 The Ronin has taken the electronic stabilizing market by force. Suitable for most camera types and configurations up to 8lbs, the DJI Ronin-M Video Gimbal features a 3-axis brushless gimbal computerized motor that works to stabilize the roll, tilt, and pan of the camera! What makes this different from the traditional manual stabilizer is you don't control the pan and tilt manually. You control this by the movement of your hands. This allows you to take more focus off of controlling the pan and tilt and more focus on the art of the video. The DJI Ronin-M Video Gimbal can also get a bit heavy after long continuous usage, but luckily there is a solution for that with the Easyrig Cinema Vario 5 Camera Support System, which will allow you to easily use this system for hours without having to worry about putting it down too often. There is no room for an external monitor, but you can use the DJI Ronin-M Monitor Bracket, which attaches right onto the arms and gives you the option to mount an external monitor like Small HD 502 Field Monitor. This gimbal is great for smooth moving shots and nice sweeping shots from different angles.
This all in one electronic stabilizer is a run and gun shooters dream come true. One of the main strengths of this gimbal is that it's light weight and can be controlled all from one hand. This specific handheld gimbal already features the Zemuse X3 Camera with a 1/2.3" CMOS sensor that features full DCI 4K (4096 x 2160) video recording at 24 or 25p. You can also use the same type of all in one stabilization setup with your own camera by using the ikan DS1 Beholder Gimbal & Grip Kit. This stabilizer features different modes to help you achieve different shots and also has a joystick on the handle to give you manual control over the pan and tilt axis. This DJI Osmo X3 Gimbal and Camera works alongside with your smartphone and also features a smartphone holder, so you can live view and operate the features and setting of the camera right from your smartphone. If you are worried about mounting decent external audio there is a perfect solution with the Rode VideoMicro & Osmo Quick Release.
So which is better for you? The real answer is not whether electronic or manual is better for you, but which product suits your needs the best. Each one might have its own benefits in certain situations. It's good to try out all of the products that seem to fit your needs since you might choose one or multiple. They all serve a purpose and a great way to start is to try it for yourself and find which fits your production needs the best.