Swipe to the left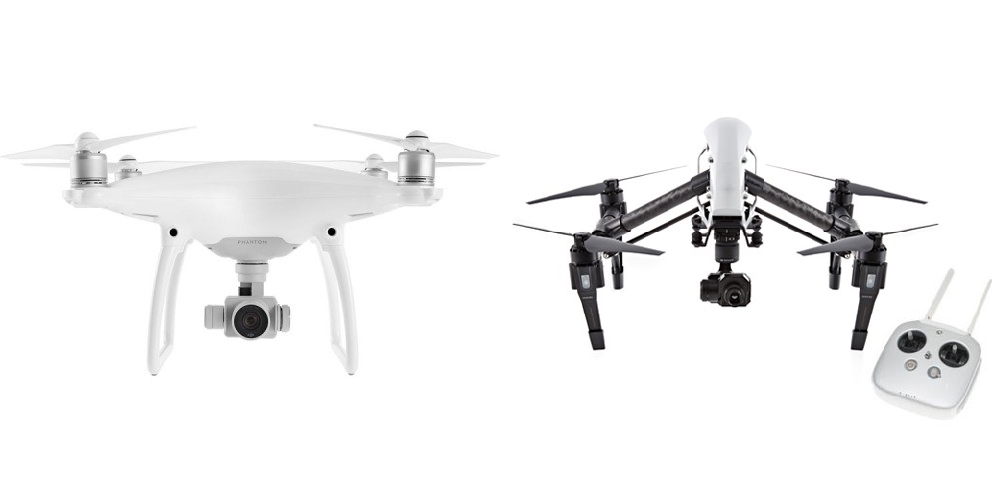 The popularity of flying a Drone with HD camera capturing capabilities has skyrocketed over the past couple of years! Not only is it used to capture different cinematic moments in amateur and professional settings, but it is also used for work purposes like thermal imaging for reporting and analysis of variations of places and objects. Drones open up a wide variety of possibilities in film making. You no longer have to charter a helicopter, because now the aircraft is in your hands. Great for establishing shots and wide fly over shots which will open up a whole new feel to your next project. We offer a variety of Drone Rentals here at The Lens Depot and they are easy enough for anyone to fly with the DJI Go App that comes with a beginner mode for those just starting out!
Take look at the DJI Phantom 4 Drone, it has the ability to record in 4k and full HD at 120fps. It has a top speed of 44mph that is achievable in sports mode and also has obstacle avoidance sensors to help prevent you from crashing into objects. This is an amazing drone for most situations, but if your on the run and need something quick and light to carry around, then the DJI Mavic Pro Drone is definitely the answer! Extremely light and small enough to to fit in the palm of your hand, this drone has many of the great features that the DJI Phantom 4 Drone has, but in a smaller form factor!
With so many options available, don't be afraid to dive into the drone market. These drones can be flown by beginners and the DJI GO App will make taking a drone up for the first time very simple!
This week we've added an the DJI Inspire 1 Pro with X5 camera. This is something we've been getting a lot of requests to add, and we're very excited to start renting it!
Although the body looks similar, the upgraded Inspire 1 Pro body features motors that are 30% faster than the existing Inspire 1 with X3 camera to accommodate the larger X5 camera and gimbal. The new Inspire 1 Pro body also features upgraded carbon fiber rods, a new quick-release locking mechanism for the blades, and slightly longer landing gears.

The biggest change however is the X5 camera, which offers a Micro Four Thirds CMOS sensor with a 15mm f/1.7 lens. The X5 camera gives you full control over manual exposure settings including the aperture, shutter, and ISO. You can also capture 4K video at 30 frames per second in MOV or MP4 and 16 megapixel photos in JPEG or Adobe DNG RAW.
What's Included and What You'll Need

Our DJI Inspire 1 Pro X5 comes with 2 controllers, allowing one person to operate the drone while another operates the camera. The kit also includes a battery charger, extra set of props, 2 TB47 batteries, a filter set with UV, CPL, ND16, and ND2-400 filter, and a Go Professional hard case.
You will need a Smart Phone or Tablet with its corresponding USB cable and the latest version of the DJI GO app. A Micro SDHC card up to 64GB is also required to store video or still images. Flight time per battery is approximately 12-15 minutes, so if you need more time we also recommend renting an Extra TB-47 battery.
If you're ready to step up the quality of your drone video or photos from the DJI Phantom 4 or Inspire 1 X3 systems, the Inspire 1 Pro with X5 is available to rent here.